The Shopify extension integrates EasyTranslate into Shopify. It enables you to translate products, blogs, articles, templates and many more automatically through our plugin.
To connect the plugin to the EasyTranslate platform, there are a few configuration steps which must be followed.
Once installed from Shopify Marketplace, your EasyTranslate credentials must be added to Shopify. This connects the EasyTranslate platform to Shopify, and enables you to send content from Shopify to EasyTranslate without leaving Shopify.
In Shopify:
Go to Apps > EasyTranslate > Account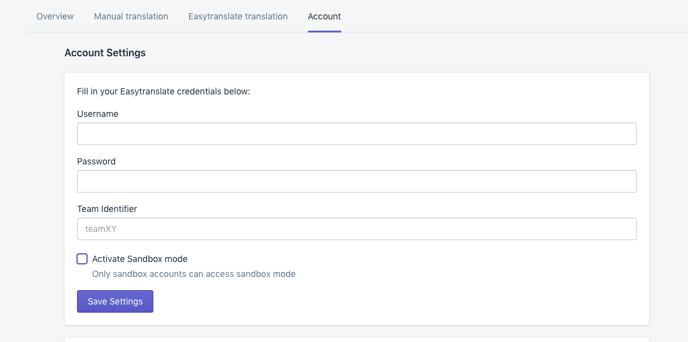 Enter your EasyTranslate platform API credentials as well as your username and password for the EasyTranslate platform.
The team identifier are/is the word(s) you see prior to platform.easytranslate.com in the URL field when you are logged on to your EasyTranslate account in the EasyTranslate platform.
Please note that these are account specific.
If you are testing, make sure you are in sandbox mode both in the plugin, as well as in your EasyTranslate account.

Make sure you have the correct langauges in your settings > these will naturally vary depending on what languages you are translating to
Go to settings > languages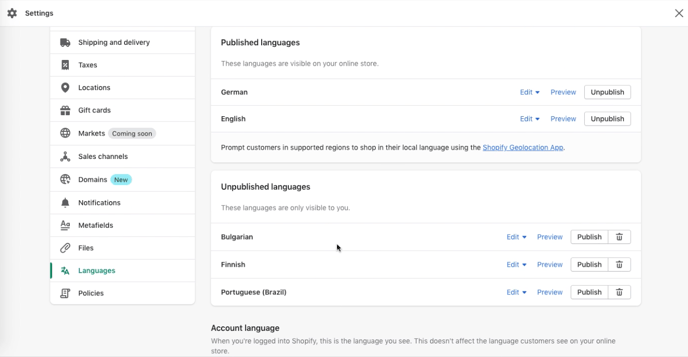 Please note that depending on if you have multiple domains or not, the default language is fixed depending on what you set it to. This also means that if you have different content on your other domains and you need this translated, it will not be possible, as its your main (default) domain that controls the source.