GDPR, 2FA, Freelance Cooperation Agreement and data deletion. In this article you can find information on all the fun stuff!
Article contents

Find your options related to GDPR, your 2 FA settings and our Cooperation Agreement by navigating to your account on the Software Platform → Settings → Account → and then select from the dropdown menu.
For information about your profile and your services, please go to this article.
GDPR
You have the option to download or delete your data from the Software Platform at any time. Simply select which data you would like to download and get it all prepared in a zip file!
The download includes the following:
Invoices: All of your invoices with us - you can also see these if you go to Payment → History. However, if you decide to export them from the GDPR page, they will all be compiled.
Messages: All of the messages you have sent to your customers.
Personal: All of your personal data, such as name, phone number, address, educational background etc.

Press the download button, and you'll receive an email from us once your export is ready to be downloaded.


To delete your account including all your personal data, please request account deletion by pressing the red button. This will trigger an automatic deletion process and once all your digital traces are removed, we will send you a confirmation email.


2FA
Two-factor authentication (2FA) is a specific type of multi-factor authentication (MFA) that strengthens access security by requiring two authentication factors to verify your identity when logging on to platforms. These two factors are typically a username and password, as well as a smartphone app such as Google Authenticator, which is the one we recommend you use. The app is what you'll apply to approve authentication requests.
2FA protects against phishing, social engineering and password brute-force attacks and secures your login as passwords are often weak and easy to guess.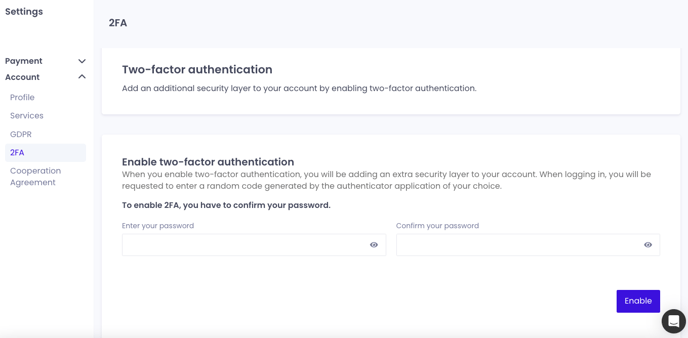 How do I install 2FA on my account?
Enter your password to the left, and confirm it on the right side. Then, click enable.
A pop up will appear with your QR code to the left, and a few recovery codes to the right. Make sure to save these, as you might need them in the future!
The QR and codes will only be shown once, and they will be destroyed when you close the dialogue window.
Scanning the QR code will generate a 6 figure code which will appear on your authenticator app of choice. Apply the 6 digits to the platform, and you will receive a confirmation message that you now have enabled 2FA.

How do I disable 2FA?
Enter your password in the required fields, then click disable.


Cooperation Agreement
The Cooperation Agreement is the legal basis upon which we operate with all of our freelancers using an account on the Software Platform. You will only be able to see your task dashboard if you agreed to the Cooperation Agreement. To accept, please read the agreement carefully and accept by ticking the box and press save.
If you are new on the platform, you will be prompted with the acceptance of the agreement during your onboarding process. By going to Settings → Account → Cooperation Agreement, you can always go back and read the document if needed.