This is EasyTranslate! - New exciting projects, a growing network of regular customers and great new opportunities are waiting for you.
Hello and welcome to EasyTranslate!
We are very excited you are interested in joining our EasyTranslate community. You are in for a great ride with many opportunities to grow your customer base! To get you started we would like to give you a brief introduction to our product, your possibilities as well as responsibilities. Make sure to check out our website for all our features.
Should you have any questions during the testing phase please don't hesitate to reach out to your dedicated Vendor Management Team via translators@easytranslate.com. We are happy to help!
Article contents
One Flow for all content
What is in it for you?
What do we expect from you?
You would like to join the Software Platform?
FAQ and more information


One Flow for all content
Our customers give their content flow superpowers with an AI-driven platform
Thousands of businesses of all industries - from small e-commerce to large enterprises - use EasyTranslate's software to generate content, to recruit teams of freelance translators or automate repetitive translation flows.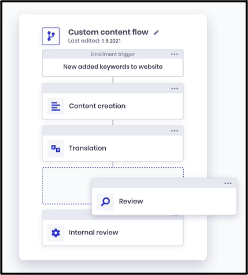 The AI-powered translation management system supports the automation and streamlining of workflows – both for the customer and for you!
Where do you come into play?
Customers can recruit and build their own team of linguists from the EasyTranslate Marketplace or have a team tested and onboarded by the ET Vendor Management Team according to their requirements. During the translation phase you will have direct access to the customer via a message function. This gives the customer the opportunity to share information, videos and guidelines and you can ask questions if anything is unclear – let's make sure you are well equipped to deliver great work!
What's in it for you?
Our Software Platform is more than just a place to accept jobs and deliver translations. The many cool tools and features are designed to support you in building a lasting and successful relationship with your customers, facilitate communication and help you grow your business! Some of the key features?
Easy tool for task management
Using the Software platform is intuitive and provides you with tools to efficiently manage your translation projects, such as quick access to the CAT-tool, message function for direct customer contact, automatic invoicing - just to name a few.
Access to new customer accounts
The platform provides you with access to a large number of customers and the opportunity to expand your portfolio to build long-term collaborations! Whether it be a customer needing a linguist while exploring our software, someone adding a translator to their team or the integrated AI recommending your expertise during an account setup - great opportunities are waiting for you!
Advertise your services and grow your customer portfolio
Through your translator profile you can advertise your linguistic services to a broad audience by letting new potential customers know about your background and experience. Make sure to update your database entry during your onboarding.
Shine with the help of the rating function
Great work should be rewarded - the platform has an integrated rating function to boost your visibility! Make sure to interact with your customers. Ask them to rate your work and help you increase your chances for getting more projects assigned.
Ratings are displayed for anyone looking to add the next great linguist to their account.
What do we expect from you?
It is all about good communication!
We firmly believe that great communication and engagement is at the heart of every successful collaboration. We put a lot of focus on providing you with the necessary online message and chat tools to communicate with your customers and us at EasyTranslate. In exchange we expect you to be open and accessible for discussion, feedback and the occasional online meeting to align expectations and to exchange important information. We do all of this to enhance your and your customers' satisfaction - we want to set you up for success!

Best match for great quality
We expect you to share our strong focus on quality and to stand out from the crowd! Your translations need to be formally correct, in line with customer requirements and carefully checked before delivery. Translation is no easy business and stylistic preferences often determine the level of success. But how do we make sure to find the perfect match for a customer's content? We constantly onboard translators to new interesting accounts for which we often require tests. Make sure to seize the opportunity because the delivery of a small free translation can add the next big customer to your account!

Don't be late!
Knowing that important deliveries will be done and delivered by the deadline builds trust and strengthens your relationship with your customers. We keep a keen eye on all projects and you are expected to handle your customers' tasks and deliver them on time. Declining tasks or handing them in late when you have marked yourself as available is generally not acceptable. On the rare occasion you can't make it always remember - communication is key!

Where and how does it all happen?
Our translation Software provides direct access to the CAT-tool Phrase. You will receive a login to your own free account which you can access easily from your Software profile. We have made it very easy for you to accept, complete and deliver your work to your customers.
All segments in Phrase for a given task are pre-populated with translated text. Existing translations are extracted from the translation memory as matches and fuzzies, the remaining segments have automatic translation suggestions (MT) applied.
Unless specified otherwise, we expect you to do full post-editing on all MT segments, i.e., the final translation is expected to have the same quality and feel as if it was done entirely by a human from the very start.


Post-edited material delivered to Easy Translate is expected to live up to the following:
Grammatically, syntactically and semantically accurate
Factually accurate
Consistent terminology
Correct spelling, punctuation and hyphenation
No information added or omitted
No offensive, inappropriate or culturally unacceptable text
Stylistically consistent and fluent in accordance with target language practices
FAQ and more information
More information regarding payments or projects in general can be found in our FAQs for Freelancers here.
You would like to join the Software Platform?
Our Vendor Management Team is ready to help you through the next steps!
Reach out on translators@easytranslate.com.