Get familiar with the process of sending tasks using the EasyTranslate plugin.
Send content for translation via String Library
Once logged in with your EasyTranslate credentials on the WordPress plugin, there is a field called String Library ID which is the String Library from the EasyTranslate dashboard.
There is a link below the field that will take you to the Libraries page, where you can create a new library that will be applied by the WPML plugin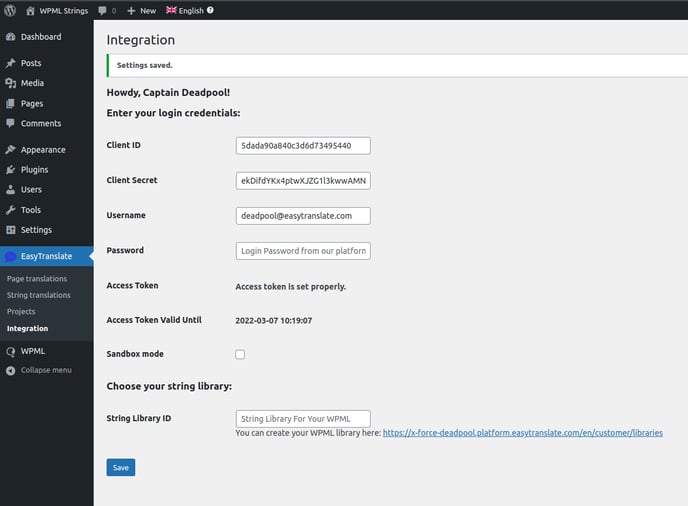 Once on the Libraries page in the EasyTranslate platform, a new Library can be created by using the Create library on the top right corner. Selecting the source language should be the same as the WPML default language (in this case English) which can be seen under the WPML -> Languages page.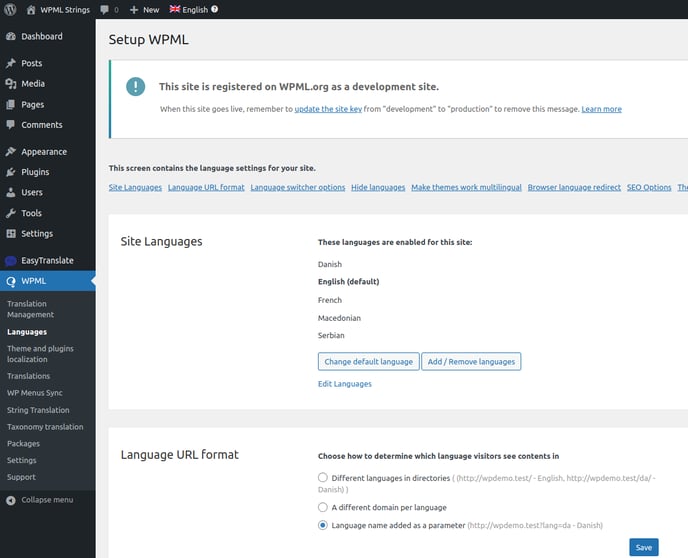 The target language doesn't have to be all languages that are going to be used by the WPML, since our plugin will detect this data and align it. Then, choose Start from scratch and click Create library.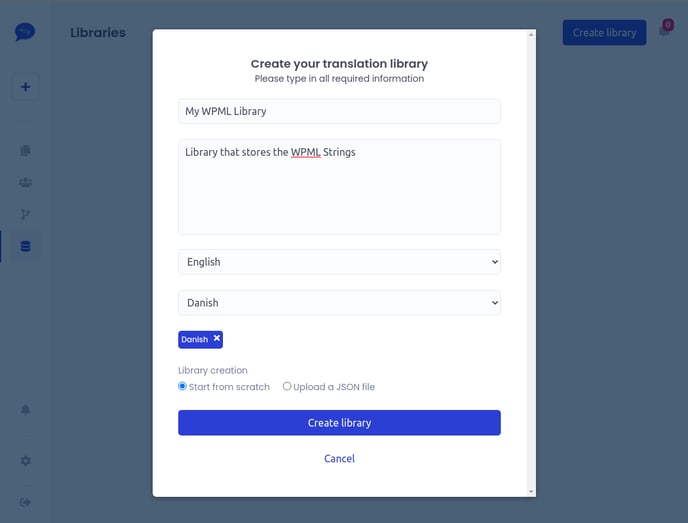 A new library will be created, with no keys/strings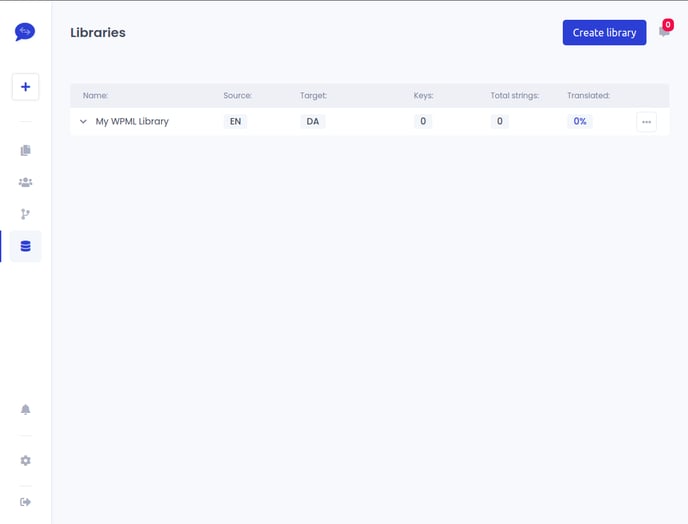 Clicking on the String Library, will take you to the single view of the Library, and from the browser URL, the ID can be copied, as this is the value we need in the plugin.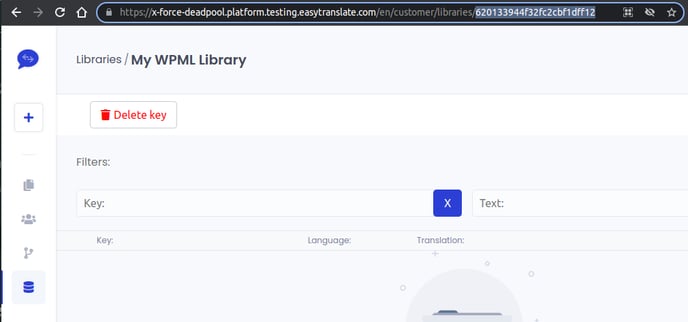 Then, set the value in the String Library ID field, and click Save. The URL will now change, and point to your string library.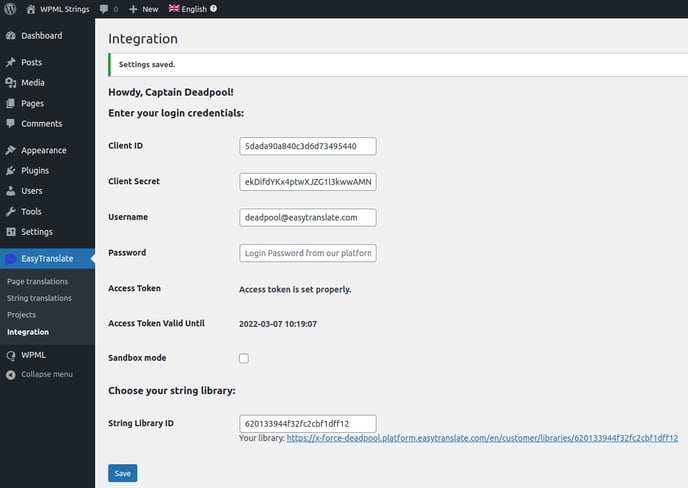 Now your library is set, you can push the strings from the WPML to our string library. It is important to note that, our string library will take everything from the WPML strings, and we at this point rely solely on the WPML compatibility/integration with your website.
If WPML is not properly set, plugins/themes/widgets/shortcodes will not be compatible with the WPML plugin, and we will not be able to translate those strings, as they wont be visible to us. The default language on WPML will always be the source for our string library (in this case English)
Pressing the "Sync your strings" to EasyTranslate, will push everything from the WPML and overwrite/create into the String Library. Please note that if there are any modifications done in the String Library on the EasyTranslate platform, they might be overwritten with this action. When using this action, the source of truth is the WPML content (the strings in WPML). It is important to note, that we might work with big chunks of data (depending how many strings are in the WPML), so it might take some time, however once finished, the strings will appear in the EasyTranslate platform.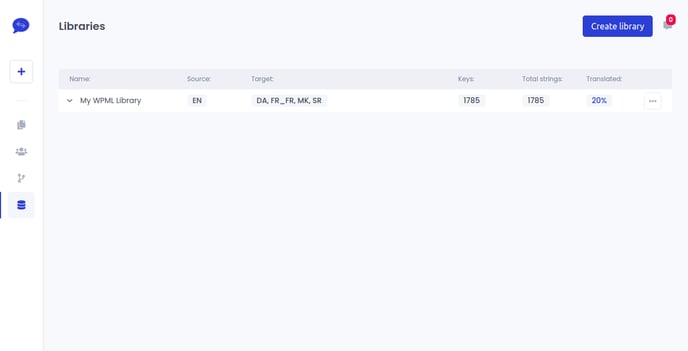 In our editor, the strings are available in all languages once translated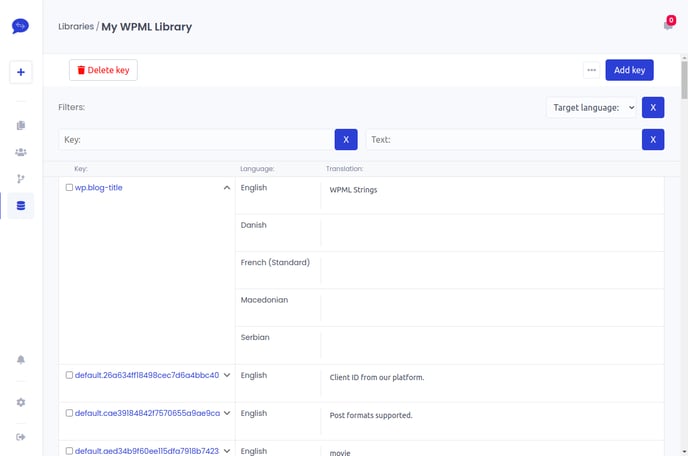 In our example, it is an empty website that doesn't have translations, but if there were any, they would have been set. Translating the strings directly in the EasyTranslate platform can be done using our workflows. Once the custom workflow is created, and the library is selected, we can trigger the workflow from the single view of the Library by pressing the Start Automation button