As a freelancer, you have multiple settings to manage on your account. Get the full overview here!
Article contents
Dashboard
Settings
Payment
Account
Services
Dashboard
Once you log in to the platform, you will land on your dashboard. Here you have the overview of all your tasks and can easily navigate to your availability settings, list of your customers and your messages.
If you click on your profile picture in the lower left corner, the settings menu will open and you can access your account and payment settings.
Please make sure to always have your availability settings up to date. This is how you ensure that your calculated deadlines are realistic and that you're not being assigned tasks while you're enjoying time off. You can find more information about it here!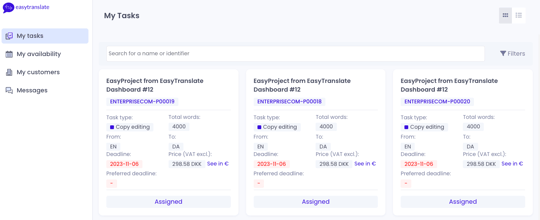 Settings
Clicking on your picture, will open the settings menu, where you can find a news bot alerting technical improvements or new platform features.
You can choose to leave a G2 review for EasyTranslate directly through the platform. G2 is the world's largest marketplace for business reviews and helps software companies to create credibility and trust among their customers.
Settings will lead you to your general Account and Payment settings.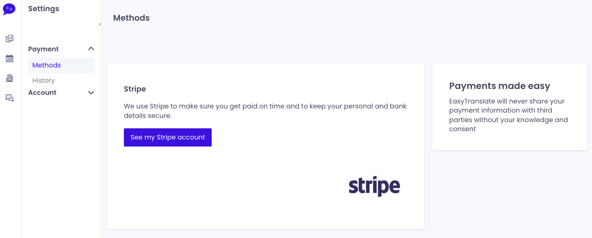 Payment
Your payment settings include your payment methods and your payment history. From here, you have access to your Stripe account and all of your automatically generated invoices.
As a default view, you would only see rows indicating the date, project name and the amount of money received. To get more details about a payment (Status, type, Payment method, Price and the VAT tax) or download the payment invoice, you simply have to click on the arrow down of the wished payment row which will display all the information as well as a link to download the invoice.
Check out our FAQ for more information about Stripe.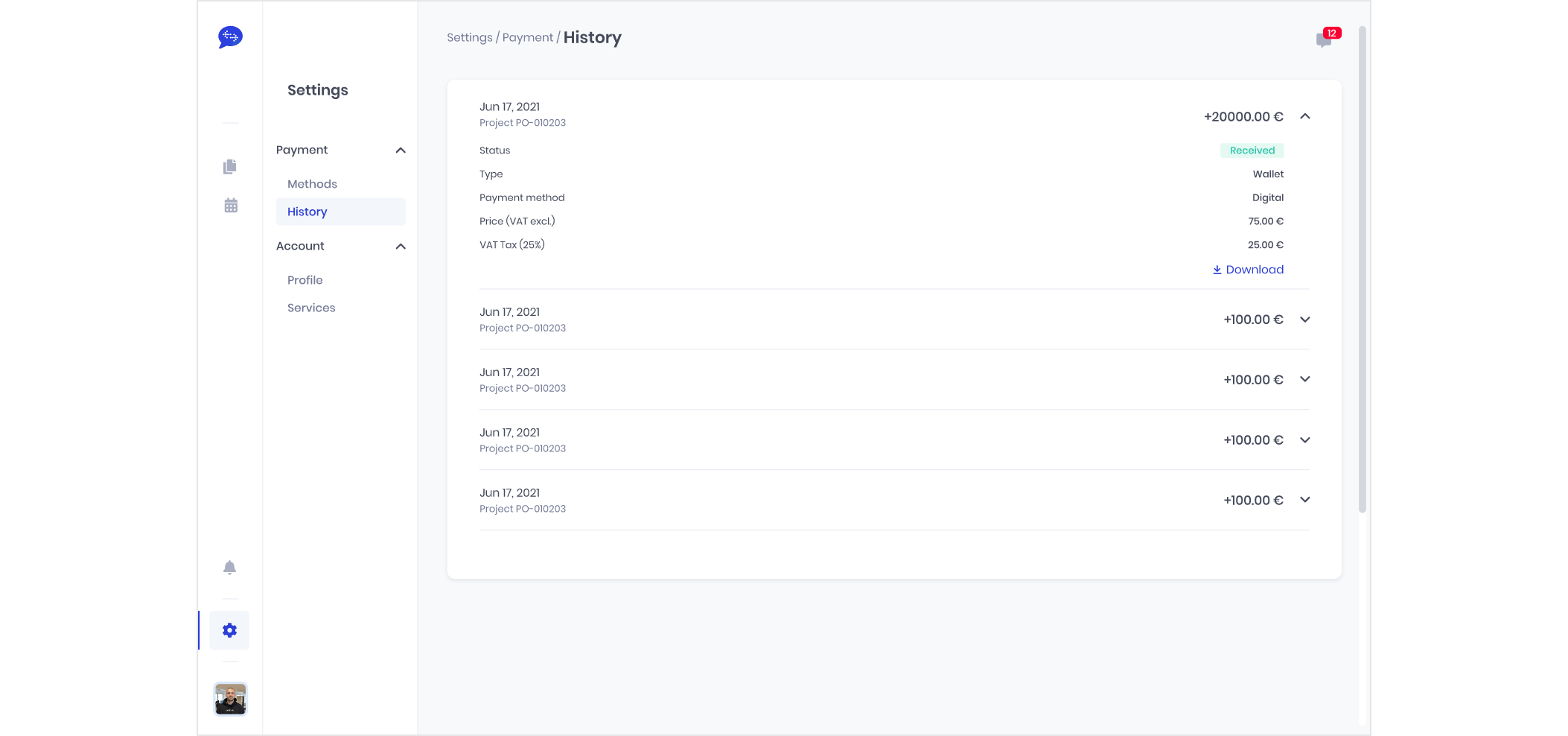 Account
Under Account, you can find your general information in your Profile, including your personal information, your professional background details and your offered services. Please remember to upload a profile picture - preferably no avatars.
On your Profile is where you have the option to fill out your Freelancer Profile Page, your educational background and your areas of expertise. Please make sure to properly fill out your profile and necessary information.
Your Freelancer Profile Page is where we display your professional information in one place. You can imagine it as your digital business card for your EasyTranslate account. Feel free to share the link to you page with your own customers!
To make the profile page visible publicly to both existing and potential new customers, you need to opt-in the toggle below your profile picture:

Your areas of expertise are a very important factor to make your account visible to customers uploading projects.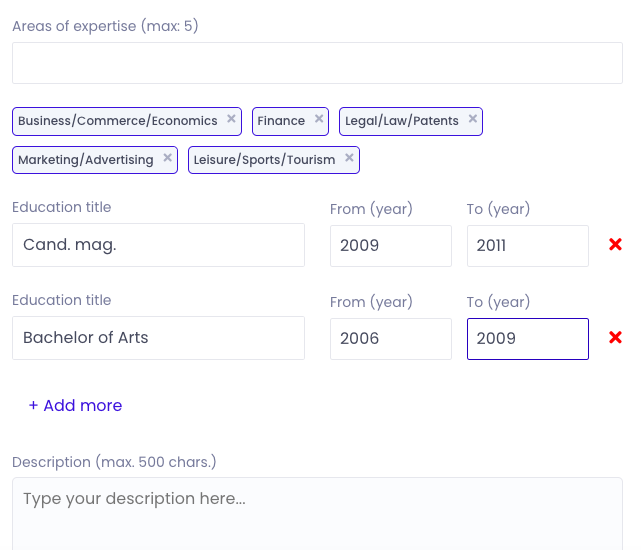 Services
Keep your services and rates up to date! To add a service, please feel free to add it to your account under Services. Here you can add the languages, types of service you work with as well as your rates. When clicking on Create new service, you can choose between several services and add your working languages as well as your rates. For the time being, we operate Human Translation (MTPE), Review, Quality Assurance and Copy Editing on the Software Platform.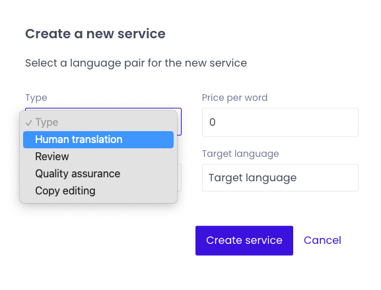 Please note that Human Translation always refers to MTPE in a CAT tool. The term has been chosen to distinguish from exclusive Machine Translation.
Check our article about copy editing for our rate suggestions for copy editing here.

GDPR, 2FA and Cooperation Agreement
For information on GDPR, 2FA and the Cooperation Agreement, please go to the Compliance article.