Everything you need to know about translators at EasyTranslate
How do I choose translators for my team?
How do I make changes to my team?
How do I talk to the translators?
How are translations assigned?
I am not happy with my translators
Who are the translators?

EasyTranslate translators are all freelancers of high quality and skill. Some work full time as translators and some work part time next to other work. All with the freedom to choose their own working hours and workplace.
Our translators are all native speakers of the languages they translate to, with a high degree of language and cultural knowledge of both target and source languages, and are able to adapt to the cultural context of the target language. Most have a degree in languages and have long experience in translation. Translators have varying skill levels, which is also reflected in their word price and how much they can translate per hour.
Before we add translators to our network we check credentials and test skill levels to ensure the best quality for our customers. We also regularly perform quality assessments to make sure the quality remains high.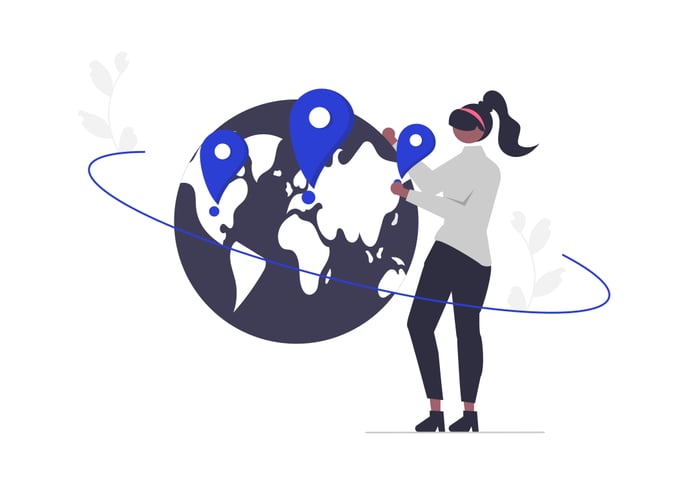 The great thing about having such a large network of translators is that there is always someone that has the special kind of knowledge that is needed for even niche areas. We have translators with knowledge in diverse areas such as veterinary medicine, marketing, adult toys and legal contracts. It all helps to deliver great localisation for you.
How do I choose translators for my team?
There are two ways to choose translators depending on the deal you have with us.
For usage customers, we will help you choose from your source material, style guide and any other requirements you have. We will then test promising candidates, and either you or us choose between the best ones. Sourcing translators like this has a cost of 100$ per translator. We can also choose the translators we think is the best fit, at no additional cost. Contact us for options.
For Freemium customers, you select the team yourself with the Create a translation team function. You find it in the Translator page on the platform. Click the button in the top right corner so a window opens.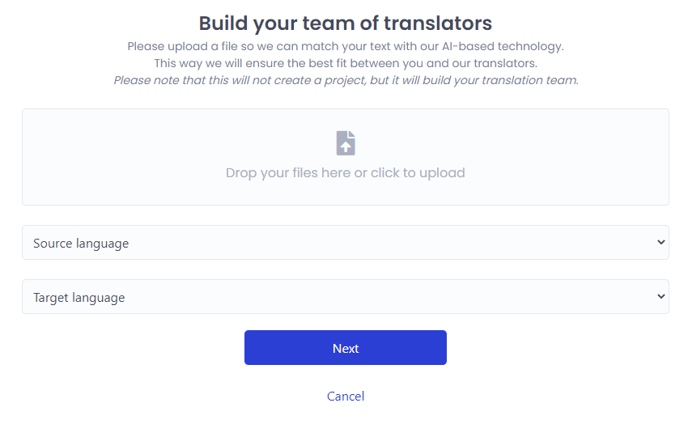 Here you can add a file with sample text and select the languages you want to translate from and to. Click Find translators and the system starts to analyse your text and find the best matches for you.
NOTE: The text you use to select your translation team should be a representative sample of the type of content you are planning to have translated. The software analyses it for type of content and finds matches for you. The text should be about 300-500 words. The file can be no more than 300KB. The match is based on ratings from similar texts.
The next screen shows you the 3 best matches for your content. Click on each translator to see more about them, incl. language combinations, prices and more. Tick the box to select a translator.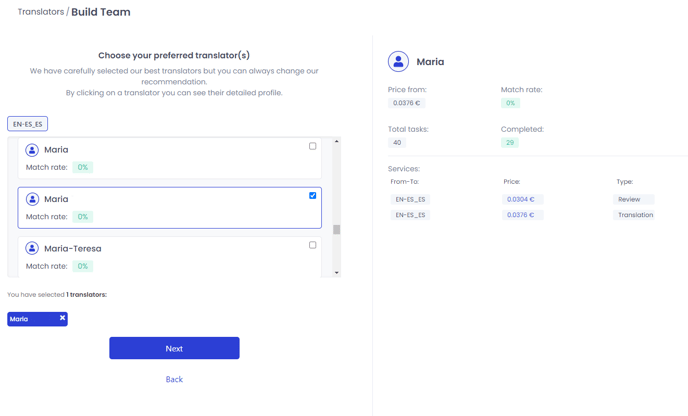 You can select as many as you have available in your deal with us. For Freemium, this is 2 translators in total. If you try to add more translators than you have seats for, you will get an error message. Contact us for options on expanding your team.
If you need review as well as translation, you need at least 2 translators for each language combination. In general we recommend 2 translators for each language combination you need, so there will always be someone available, even when one translator is taking some time off.
Tip: The number of translators is based on seats, so if you have two seats, you can have 2 translators, but can add any language they offer. Many translators offer more than one language combination.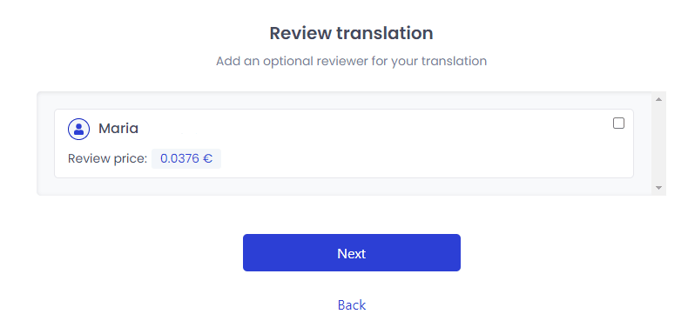 Click Next when you have selected the translators you want.
In the next step, you can select if you also want the translator to do review tasks on your translations. Not all translators offer review services. You can see the offered services in the previous step.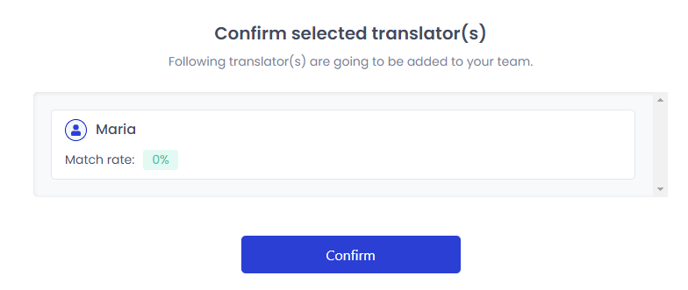 Click Next to get the next and final step where you can see your choices and confirm. When clicking Confirm, the translators will be added to your team.
Your team of translators is now ready for translation projects!
How do I make changes to my team?
How you make changes to your translation team depends on the deal you have with us.
For usage customers, please contact us directly so we can determine your needs and find the best solution.
For Freemium customers, you can add translators yourself as described here. Removing translators can only be done by EasyTranslate. Please contact us if you want to remove one or more translators from your team and we will assist you.
How do I talk to the translators?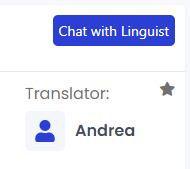 In the platform you have a built in chat function where you can send messages to your translators directly. When you open a translation project on the platform, you can see more details about each language task. You can open a chat with the translator by clicking the Chat with Linguist button above the translator's name. You will get an email when you get an answer.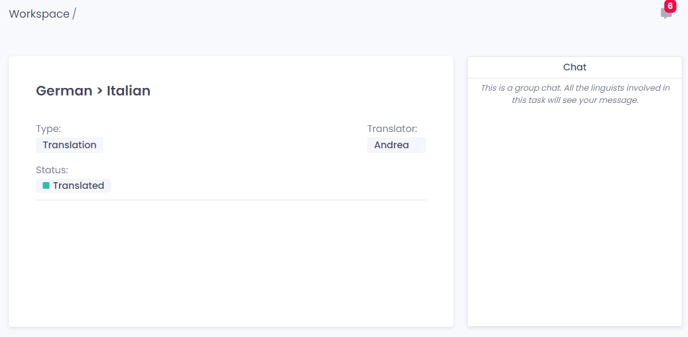 TIP: Do you need more options than the chat? Contact us so we can find a solution that works for you. You can contact the EasyTranslate Support Team using the chat feature at the bottom right corner of your dashboard.
How are tasks assigned to translators?
Translation tasks are assigned to translators based on who in your team can have it done first. When estimating who can deliver the fastest, the software looks at the availability of each translator in your team with the language combination. Availability is based on which days the translators are working, how many hours a day, how many words per hour they can do, and how much they have in queue already. The estimated deadline for the task is placed after the current queue.
TIP: If a translator declines a task, the task will be reassigned to the next translator in the team. If there is no other translator in the team for that language combination the task will be unassigned and the EasyTranslate Support team will be notified and will try to find a solution.
FAQ
I am not happy with my translators
If you find that you are not satisfied with your translation or the translator themselves, you have a few options.
If there are things in the translation that are not correct, e.g. some terms are not translated they way you want, there are typos, or the tone does not match, please let the translator know directly, and they will go in and change it. Giving feedback to your translators is very important so they can get to know you and learn what you prefer for the end result. Good communication between you and your translation team is key to the best quality translations.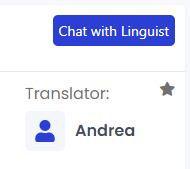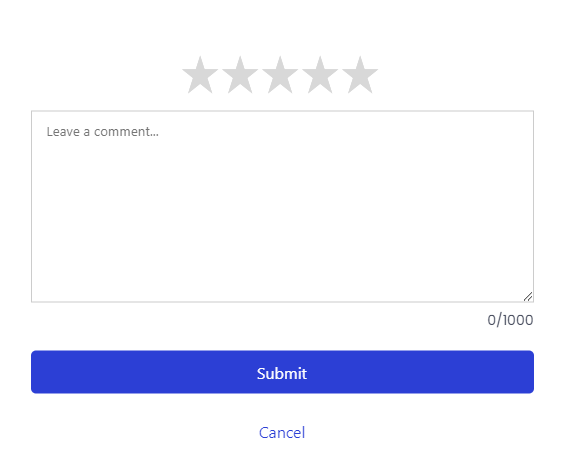 You can give your translators feedback through the platform chat, and through the ratings function. The ratings function is the little star above the translator's information in projects. Click the star to open a box where you can rate from 1-5 stars and leave a comment for the translator. 5 is the highest rating to give. Ratings from 3 and under also generate a ticket to our Translation Quality Team who will look into the rating, translation and contact you with possible solutions.
It is important to engage with your translation team so they can deliver what you need. They are professional, take pride in their work and love to receive and implement feedback. Great localisation is a collaboration between you and your translation team.
You can also run regular QA check on your translators with the QA workflow. See more about this feature here.
Why do you use machine translation?
Running the text through machine translation first gives us a great foundation for not only calculating words, price and estimated deadlines, but it also allows the software to bring in your previously translated segments from the translation memory, so they will not need to be translated again. Most of all, it is much faster for the translators to edit machine translated text than it is to translate text from scratch, which makes translations faster and cheaper for you.
Why is the translator not answering?
There can be many reasons, most likely they are out of the office and not checking their email. If something is urgent or you have not heard back for a while, you are very welcome to contact the EasyTranslate Support team through the chat in the lower right corner of our website and platform.
How can I see their schedule?
It can be nice to see when your translators might be available, especially when it comes to urgent translations and big projects. However, due to privacy, the schedule is only available to the translator themselves and to EasyTranslate. You are always welcome to ask your translators or the EasyTranslate Support team about availability.
Can I provide context for my translators?
Sometimes context is key to a good translation, and something the translators are always happy to get as it makes it easier for them to choose the right translation.
After creating a translation project, you can chat with your translator and send them information about the translation that you think is important for the task.
In case you have larger files you want the translators to have, please let us know and we will find a solution.
What am I paying my translators?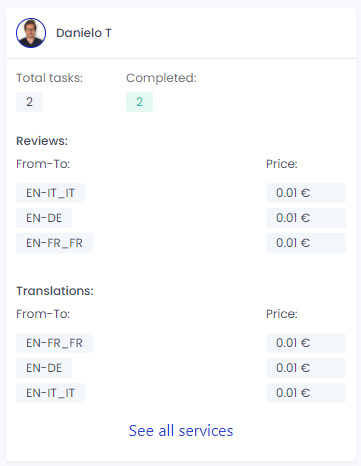 Translators get paid by the word, and this is the price you pay. The price per word varies between translators and language combinations, and also what quality translation they do. You can see the price for each language combination under each translator in your team.
Translators set their own prices. As a Freemium customer, you can see the price when selecting the translator.
For usage customers, the price is the one you have agreed on with us and we have negotiated with the translators.