Let's get started! - We're happy to have you on board! The journey starts here, so be ready for exciting projects, a growing network of regular customers and great new opportunities.
Article contents
Onboarding checklist
What's in it for you?
What do we expect from you?
Your tasks - from start to finish
Post-editing
Deadlines & Availability
Message Function
Stripe payment flow
7.5% Premium Fee & Minimum Charge
Freemium
EasyTranslate Freelancer Community
Keep data safe!
Questions?
FAQ
Onboarding checklist
Hello and welcome to the EasyTranslate Software platform!
We are very excited to have you join our translator community. You are in for a great ride with many opportunities to grow your customer base! To get you started we have put together comprehensive onboarding materials to give you a proper introduction to our platform and outline your possibilities as well as responsibilities. We want to make sure you know how to get the most out of all features and tools - for the benefit of you and all your customers!

To get ready to start simply follow this checklist:
Make sure to read this document carefully from beginning to end - it is filled with important information.
Click on the link you received via email to access the EasyTranslate Academy training and info modules. Finalizing them is mandatory to complete the onboarding.
Once you have finished the modules, you will receive the Software Platform invitation email to set up your account. Don't forget to connect your bank account for automatic payments. If applicable set up a EURO account ahead of time (see "Stripe Payment Flow" in this document to check if this applies to you).
Find the email invite to the EasyTranslate Community Space on Slack where you will receive info, updates, can chat with other linguists and much more!
Should you have any questions during the onboarding process please don't hesitate to reach out to your dedicated
Vendor Management Team via translators@easytranslate.com. We are happy to help!
What's in it for you?
Our Software Platform is more than just a place to accept jobs and deliver translations. The many cool tools and features are designed to support you in building a lasting and successful relationship with your customers, facilitate communication and help you grow your business! Some of the key features?


Easy tool for task management
Using the Software platform is intuitive and provides you with tools to efficiently manage your translation projects, such as quick access to the CAT-tool, message function for direct customer contact, automatic invoicing - just to name a few.

Access to new customer accounts
The platform provides you with access to a large number of customers and the opportunity to expand your portfolio to build long-term collaborations! Whether it be a customer needing a linguist while exploring our software, someone adding a translator to their team or the integrated AI recommending your expertise during an account setup - great opportunities are waiting for you!

Advertise your services and grow your customer portfolio
Through your translator profile you can advertise your linguistic services to a broad audience by letting new potential customers know about your background and experience. Make sure to update your database entry during your onboarding.

Shine with the help of the rating function
Great work should be rewarded - the platform has an integrated rating function to boost your visibility! Make sure to interact with your customers. Ask them to rate your work and help you increase your chances for getting more projects assigned.
Ratings are displayed for anyone looking to add the next great linguist to their account.
What do we expect from you?
It is all about good communication!
We firmly believe that great communication and engagement is at the heart of every successful collaboration. We put a lot of focus on providing you with the necessary online message and chat tools to communicate with your customers and us at EasyTranslate. In exchange we expect you to be open and accessible for discussion, feedback and the occasional online meeting to align expectations and to exchange important information. We do all of this to enhance your and your customers' satisfaction - we want to set you up for success!

Best match for great quality
We expect you to share our strong focus on quality and to stand out from the crowd! Your translations need to be formally correct, in line with customer requirements and carefully checked before delivery. Translation is no easy business and stylistic preferences often determine the level of success. But how do we make sure to find the perfect match for a customer's content? We constantly onboard translators to new interesting accounts for which we often require tests. Make sure to seize the opportunity because the delivery of a small free translation can add the next big customer to your account!

Don't be late!
Knowing that important deliveries will be done and delivered by the deadline builds trust and strengthens your relationship with your customers. We keep a keen eye on all projects and you are expected to handle your customers' tasks and deliver them on time. Declining tasks or handing them in late when you have marked yourself as available is generally not acceptable. On the rare occasion you can't make it always remember - communication is key!


Your tasks - from start to finish
One workspace to organize it all!
We have created an environment that gives you access to all the necessary tools in one place to guarantee a smooth and efficient workflow - from start to finish.

Where do I find my new task?
The link in the email takes you straight to your dashboard where you find an overview of all your ongoing and delivered tasks. Any new and ongoing job will have the status "Assigned".

Click on the status for more info and a direct link to the job in Phrase, the CAT-tool which is used for all translations. We will make sure to provide you with a personal account to grant you access at all times.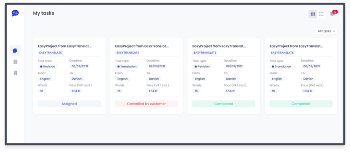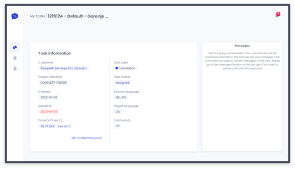 Step 1: Accept and get going
The link "Go to Phrase" will take you to the project page in the CAT-tool. In order to start working you have to change the status from "Emailed to provider" to "Accepted by provider". Choose the task by setting the tick mark, click "Edit", select the status "Accepted by provider" from the drop down menu and save.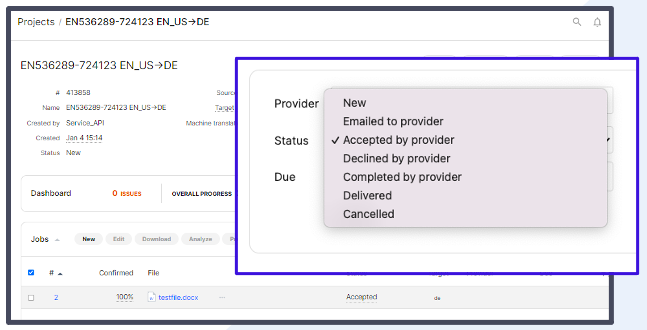 Step 2: Translate
To start translating in Phrase, simply click on the file name which will take you to the editor. Go through the segments one by one and make sure to properly check all fuzzy matches and MT entries carefully and confirm all segments by clicking on the red x which will turn into a green tick mark.
All jobs have automatic translation suggestions applied. You will need to edit these as needed to generate the final output.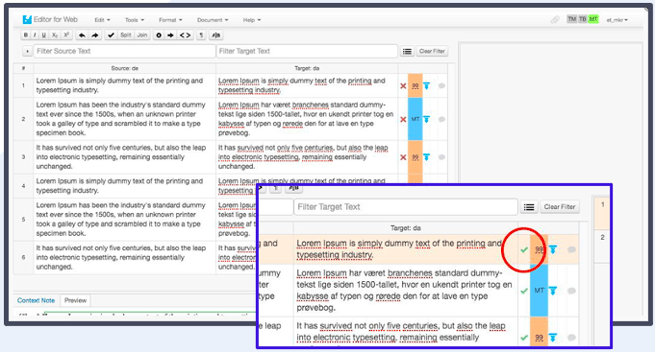 Step 3: Quality check and delivery
Once all segments are thoroughly proofread and confirmed it is mandatory to run the QA module in Phrase to check for potential errors, inconsistencies etc. To do so go to the QA tab on the bottom right and click on "Run job QA". Do not untick any of the categories from the list before running it and make sure to fix all issues. Any false positives need to be marked with "Ignore".
Now that you have finished the editing, QA and proofreading and have confirmed all segments, you need to complete the job to make it available to the customer.
The delivery to the customer is fully automatic and won't require you to download and re-upload files. The only thing you need to do is set the job to completed. And this is how it is done: Go to the main project page, make sure the task status is at 100%, tick mark the project, click on "Edit" and choose "Completed by provider" from the drop down menu. The automation takes care of the rest!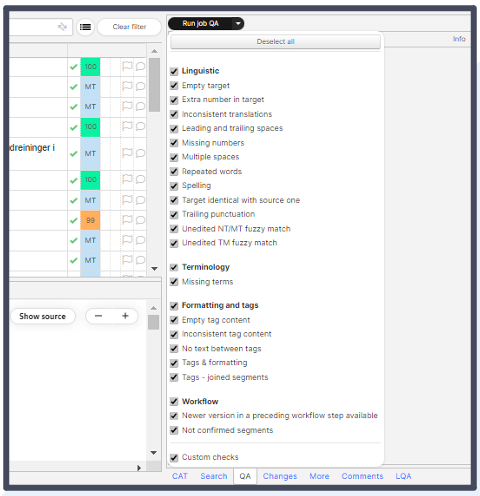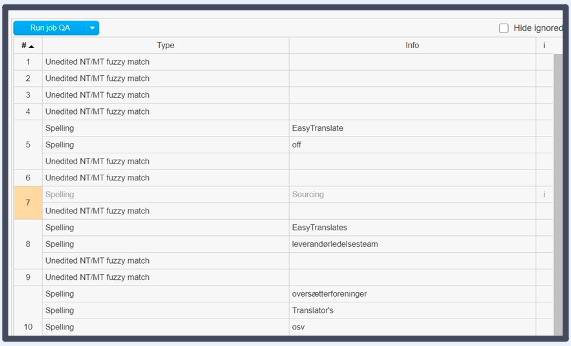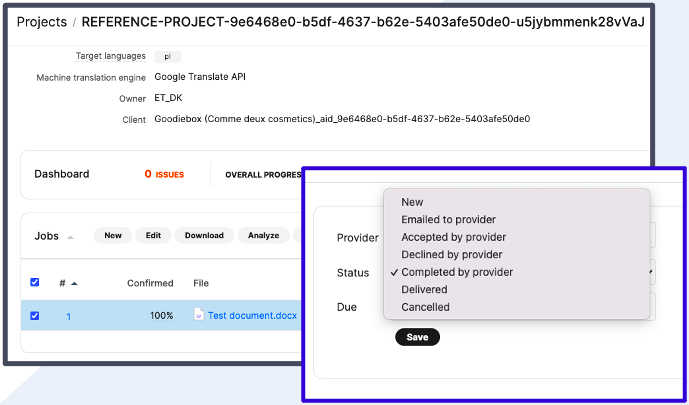 I can't make it - what to do?
Declining tasks when you have marked yourself as available is generally not acceptable. In the unlikely event that you are prevented from delivering a task, please decline in Phrase as soon as possible, so the system can assign a backup translator:
Go to the main project page, tick mark the project, click on "Edit" and choose "Declined by provider" from the drop down menu. The automation will take care of the rest!
Always keep in mind that this is meant for emergencies only.
Post-editing
As you know, we love to support your workflows with automation and AI. If used correctly and effectively, post-editing increases your productivity and helps you deliver great results - so let's get started!

Full post-editing
Guidelines & Expectations
All segments in Phrase for a given task are pre-populated with translated text. Existing translations are extracted from the translation memory as matches and fuzzies, the remaining segments have automatic translation suggestions (MT) applied.
Unless specified otherwise, we expect you to do full post-editing on all MT segments, i.e., the final translation is expected to have the same quality and feel as if it was done entirely by a human from the very beginning.

Terminology: When doing full post-editing you are expected to ensure that the specific terminology is translated correctly and consistently throughout the document. Check that technical terms are properly translated and standardized when compared to other translations in the same subject or field.
Content: During the post-editing phase please compare source and target and make sure that the translation contains the exact same information.
Style: The translation must be both idiomatically correct and use appropriate cultural references, and the syntax and style needs to be on the level of a documents written by a native speaker of the target language.
Goal: You must aim at producing a fully publishable translation with equal quality as a document that was translated from start to finish by a human.

Post-edited material delivered to Easy Translate is expected to live up to the following:
Grammatically, syntactically and semantically accurate
Factually accurate
Consistent terminology
Correct spelling, punctuation and hyphenation
No information added or omitted
No offensive, inappropriate or culturally unacceptable text
Stylistically consistent and fluent in accordance with target language practices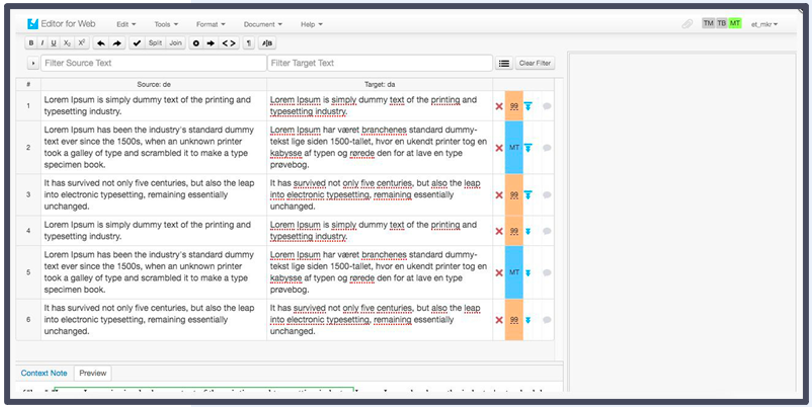 Deadlines & Availability
A good customer experience depends on many factors, but knowing that an important delivery will be on time builds trust and earns you many loyal customers!

Deadlines
Automatically calculated deadline
Our platform uses AI software that assigns tasks according to your availability and productivity settings. By setting your availability you are communicating when you are free and ready to take tasks and you will automatically be assigned projects with a calculated deadline. Keeping your working availability up to date at all times is crucial for a well functioning collaboration!
Preferred deadline
If a customer has a fixed deadline for an urgent project we give them the opportunity to overwrite the calculated with a preferred deadline, which is displayed in red on your dashboard. We are aware that it might be difficult to fit these jobs into your schedule but remember, the customer has chosen you specifically for his team, thus we expect you to do everything in your power to deliver the project on time - lets see what we can do for them!

What if I can't make the deadline?
When you are part of a translator team on the Software Platform you are expected to handle jobs that are assigned to you with a calculated deadline and deliver them on time. Declining tasks when you have marked yourself as available is generally not acceptable. In the unlikely event that you are prevented from delivering a task, please decline in Phrase as soon as possible, so the automation can assign a backup translator. Always keep in mind that this is meant for emergencies only.
If you are assigned a project with a preferred deadline keep in mind that the customer is communicating to you that keeping the project timeline is really important to them! If you can't rearrange your other commitments and you need more time please start be reaching out to the customer and discuss. If no agreement can be made please decline right away so it can be assigned automatically to someone else.
Always remember: communication is key!
Ignoring a project because it does not fit your schedule is
never
the right choice! Instead, we expect you to communicate with the customer and our support team to find a solution.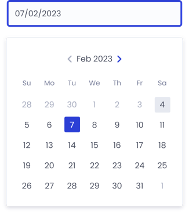 Availability
How do I manage the amount of work I receive?
The page called "My availability" in your account is the place to go in case you need to modify your availability or want to log time off. Please provide as much information as possible about working hours, output, vacation etc. It is crucial that your hourly word output and working times are respected, as these are the parameters used to determine which tasks are assigned to you. If you are going on holiday or will be away, you need to update your settings ahead of time.

If you get too much work or have more availability - changes to the availability settings will make all the difference!

If you need more information on the functionality, incl. screenshots and useful tips, go check out this article we put together for you or reach out to support via the website support chat.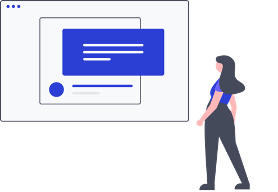 Message Function
A great tool for effective communication – inquire, discuss, share ideas and deliver fab results!

Efficient communication
The message function is one of the many cool features of the Software platform and gives you and the customer the great opportunity to be in direct contact with each other. You can discuss content and ask questions without having to wait for a project manager to move messages back and forth. No matter whether you and the customer want to discuss something in private or need to involve the entire translator team, the integrated message function has got everyone covered!
Channel: Can be created by the customer - the perfect place to keep all vital information in one place for longer, ongoing projects.
Direct Message: Both you and the customer can initiate a 1:1 conversation.
Group Message: Gives the customer the possibility to quickly reach out to you and your fellow team members working on a specific task.

Get started!
For easy access, the message icon on the top right will follow you around wherever you navigate to in your account.
Simply click on it, make sure to select the workspace/customer you want to communicate with and off you go!

Stay up to date!
Rest assured that we will keep you in the loop about new messages - you won't miss a thing! However, we don't want you to drown in notifications either, after all there is translation work to be done. The system will send you an email every 10 minutes summing up your notifications so you can easily catch up on what has been happening!
Just try it out and if you need more information on the functionality, incl. screenshots and useful tips, go check out this article we put together for you or reach out to support via the website support chat or support@easytranslate.com.


Dos & Don'ts when messaging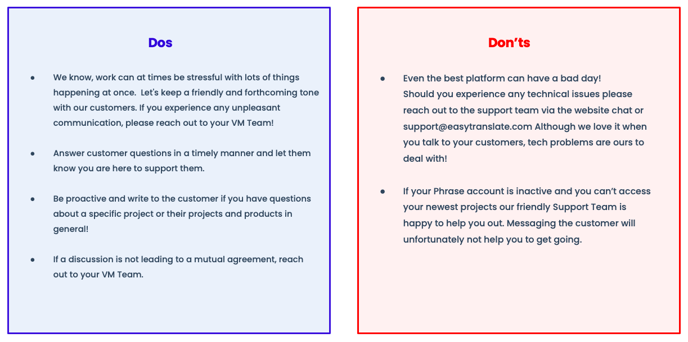 Stripe payment flow
We love efficient workflows which let you focus on your work - check out the fully integrated, automated payment system on our Software platform!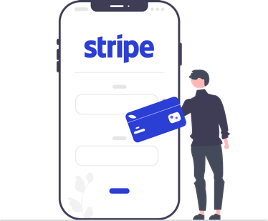 What is Stripe?
Stripe is a global online payment processor which is used by millions of businesses to
accept and send payouts. EasyTranslate has teamed up with them to allow for a swift and secure automated payment flow via Stripe Connect!

How does it work?
All of your payments are placed in a virtual wallet when you complete a task on the Software Platform and are automatically paid out to your designated bank account 14 days after completion of an assignment.
How do I connect my account with Stripe?
You will be prompted to connect your bank account to Stripe during your onboarding to the Software platform. Please note that payments are exclusively made in EUR! If you live in a non-Euro country we strongly suggest you open a EURO account with your bank so that you control the currency conversion rate. This allows you to get your bank conversion rates rather than Stipe's and it is you who controls when to change the amount to local currency. Once your EUR account is set up you are ready to link it to Stripe Connect!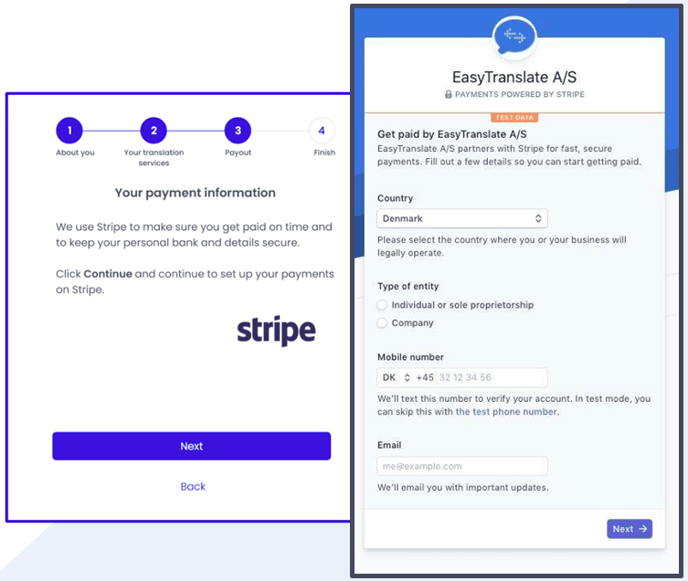 Stripe registration
During the Software onboarding you will be prompted to set up your Stripe account.
Make sure to choose the correct account type (Individual or Company) and then follow the Stripe registration flow. To make sure that the account can be verified and payments will go through, please upload all required documents.
Once done, you are ready for your first payment!

Where do I check my Stripe balance?
You have the possibility to connect to and view your Stripe payment account via your Software account at any time.
Simply navigate to Settings > Payments > Methods and click on "See my Stripe account" to be redirected.
7.5% Premium Fee & Minimum Charge


7.5% Premium Fee
Why am I charged a 7.5% fee on all payments?
We allow ourselves to charge a 7.5% fee on payments to our freelancers and you might wonder what you are getting in return!

We have made it our goal to simplify your work on the Software Platform, allowing you to focus on the important aspects of the job you love! The tools and features we provide are designed to support you in building a lasting and successful collaboration with your customers, facilitate communication and help you grow your business. Let us name some of the features and services you have access to and profit from by being part of the EasyTranslate translator community:
We provide you with direct access to your customers via the message function
We support you in growing your portfolio by giving you the opportunity to present yourself and your skills in our Translator Marketplace which is accessible to all present and future customers
We drive in customers for you so you can concentrate on your translation work rather than finding new business opportunities.
The rating function will boost your visibility - the score is displayed on your profile and help you win more customers within your areas of expertise.
Our AI learns the type of documents you excel at translating and the system will automatically recommend you to new customers with similar content who are looking to set up or expand their team.
We've got you covered: no matter how many money transfers you receive via Stripe, we will cover your banking fees!


Minimum Charge
Can I charge a minimum fee per project?
We are going to be very honest with you - minimum price requirements do not exist on the Software Platform!
We believe in continuous localisation, where companies do not create projects for translation but rather synchronise their contents continuously and translation work is triggered once new, untranslated strings appear. Hence. we want to make sure that our customers can translate even the shortest texts in as many languages as they need at their usual word rate.
In return we have and continue to put a lot of focus on optimizing the efficiency and value of the platform features for you and your business.
Freemium
Add new customers to your portfolio – simply by being visible and engaged on the EasyTranslate Software Platform!

What is a Freemium?
Freemium is a starter account that gives customers access to the Software platform and a network of translators. It is the perfect place for them to get to know us and our product - And it is the perfect place for you to show what you can do for them!

How do I get assigned to a Freemium Account?
Customers trying our Freemium solution choose their own translator team from the database during onboarding.

What can I do to stand out?
We have dozens of customers sign up for a Freemium every week – don't miss out on the chance to present yourself! Make sure to opt in to the Translator Marketplace by sharing your profile with our customers and update it with as much information as possible.
What should I do if I receive work from a Freemium account?
Congrats! If you receive work from an account that you were not specifically onboarded for, it is very likely that a new Freemium customer picked you from the database.
Our Tip: The possibility for customers and linguists to talk to each other via the message function is a big plus - use it in your favor! Make sure to engage: introduce yourself, ask for reference material and inquire about linguistic preferences. Don't forget to deliver on time and only send them thoroughly proofread translations. In short: give them the best all-around experience and they might just become your next regular customer!
EasyTranslate Freelancer Community
Better Together - this is one of the important values we live by at EasyTranslate. We believe in teamwork, knowledge sharing and engaged collaboration!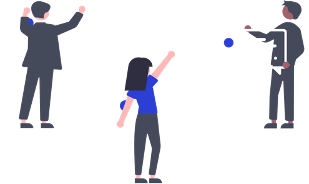 Great to have you here!
Customer satisfaction is not our only focus, we of course also have you on our minds! We want to support you in your journey and make sure to keep you up to date on hot topics. Get the most out of being part of our Software solution and join our EasyTranslate Community Space on Slack. Just follow the email invite you received and be part of it.

What's there to see?
The community Slack channel features updates on developments, job opportunities and much more! We want to make sure you get first hand insights into what the platform can do for you and your customers. Stay tuned for presentations on various topics, videos and helpful recommendations.
The space also gives you the opportunity to stay engaged with fellow linguists: find colleagues for discussions, get help, seek advice and support others. Last but not least, we at EasyTranslate always have an open ear for any questions, concerns, ideas and feedback you may have. After all, we are Better Together!
Don't miss out - see you there!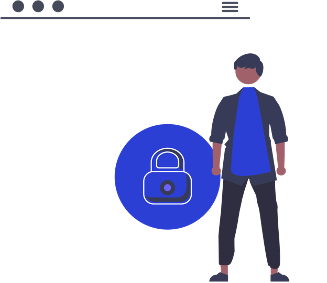 Keep data safe!
We love data security - here some tips for you on how to keep your customers' data safe!
How do I keep my customers' data safe?
If you are working in a public space like a coffee shop or a library, never use a public, non-secure Wi-Fi connection. Instead use a password protected Hotspot.
Please don't send confidential customer files via email. If you need to send us a document, ask the EasyTranslate Support Team to make a file transfer link available.
The projects that you are working on may
contain confidential information.Please don't share this information with your family or friends.
If you are in a public space, ensure your sight lines are blocked and do not have customer conversations or other confidential conversations. It is always best to work from a personal office that the public does not have access to.
Don't forget to delete the documents you may have downloaded from the system after you have completed your work.
Do not share any customer information or projects with a fellow translator. If you would like to recommend someone you know for a collaboration please reach out to your Vendor Management Team.


Questions?
Full support
Your dedicated Vendor Management team is ready to help you if you have any questions about the onboarding process, services and pricing, test translations and much more! Reach out to translators@easytranslate.com and our team will happily review any questions you might have. We also always have an open ear for feedback on your experience with our Software Platform, the features and the support you receive along the way!



FAQ
Check out our FAQs here for even more insight on payment terms, project handling and general information about being freelancer with EasyTranslate!